If you've always wanted to be the publicist that turns a life-changing brand from barely visible to everywhere, this is the publicist job you've been looking for.  I need a publicist to work exclusively with me to expand the brand and core messages of Laura DiBenedetto, The Six Habits, and Explosive Joy!  Work with me side-by-side in my Maui, Hawaii office, or from your home anywhere in the world.
Experience is absolutely required, as is a sincere desire to create positive change in the world.  Together, you and I will build a large business based around education, transformation, abundance, and joy.  Every day of our work together, we will be affecting hearts and minds across the globe, empowering thousands to step into their dream lives, and finally experience soul-shaking joy.  If this sounds like your dream publicist job, please keep reading.
You will have a very robust publicist role with lots of responsibilities.  This is a dream job for the person that likes to work hard at what matters to them –  and personal growth, joy, and abundance matters to you.  This is a role where you take my teaching and spread it far and wide.  You aren't called to be the core content creator – that's my job.  Together, we'll publish my books, courses, classes, sell my products, host retreats, and more than anything – show people the path of light, love, and ease.
This is a role where you will be given a great deal of responsibility, and accordingly, a great deal of trust and benefits.  In addition to great compensation with money, time off, and other benefits – you will also learn a tremendous amount about yourself, how to build your own pathway to your dream life, and receive direct 1:1 mentoring by me personally.  Your success will be my business, and my success will be your business.
Key Responsibilities of the Publicist Role
* local candidates only
† remote candidates only

Content Curation, Management & Distribution:

Manage content created by Laura, distributing appropriately across channels
Re-purposing content as needed
Managing library of content in database for easy use and distribution
Distribution of Laura's content across social media and social sites (like LinkedIn)

Public relations:

Securing interviews and media appearances with domestic and international media (TV, radio, podcasts, blogs)
Securing speaking gigs internationally (Conferences, events, retreats)
Pitch and secure guest-post authoring (like HuffPost, Inc. HBR)

Social media posting and management:

Facebook (page, group, advertising)
Instagram (page, IGTV)
LinkedIn (account, page, group)
Metrics analysis
Hashtag research and implementation
Comment and DM management

Brand management & curation:

Photography of Laura (slick) and day-to-day (candid)*
Videography or Laura, Laura's events, speaking gigs, public appearances, and day-to-day*
Editing of photography of photo and video for content curation, management and distribution

Lead management:

Intake and pre-qualification
Scheduling initial calls

Email marketing:

Email funnel and sequence creation
Email database management

Web site management

Build pages and forms as needed
Analyze and optimize for search

Promotion:

Promote full suite of services and products online and offline
Ad campaign creation, analysis, and management
Publicist Qualifications
5 years of experience in public relations, publicity, and/or digital marketing required
Degree not required, but helpful: marketing, psychology, and communications degrees preferred
Sales training not required, but helpful: Sandler methodology ideal
Reliable transportation of your own to get to/from work*
Valid passport (travel with me may be required)*
Reliable Internet connection
Technology Skills Needed
PC
MS Office suite
WordPress

Avada
Yoast
Gravity Forms

Kajabi
Photoshop
iMovie or Premiere
Click Funnels
AWeber
Traits Desired
To be most successful in this role, you'll be outgoing, and willing to get on the phone without it giving you the willies.  Phone work, pitching, and asking for things is a regular part of this job, and as such, you must be comfortable with it or like to do it.  You must be very interested in wellness, personal development, and/or business.  If you're a Type-A "go-getter," you'll be very comfortable in this role, and will be handsomely rewarded for your tendencies.  A preference of (or abilities with) delivering work imperfectly and on time over delivering work perfectly and late is important.
You must have a versatile communication style and be able to communicate comfortably with others in writing and verbally, knowing how to sell without selling. Due to the nature of the work we are doing, it's very important that you are fully in line with feminist (equalist) views, and wish to further the equality and joy of women.  You'll also be socially liberal, accepting of others for who and where they are.  You'll be naturally curious with a thirst for learning, growing, and becoming your fullest/best self.  You'll be funny, easy-going, and a pleasure to be around.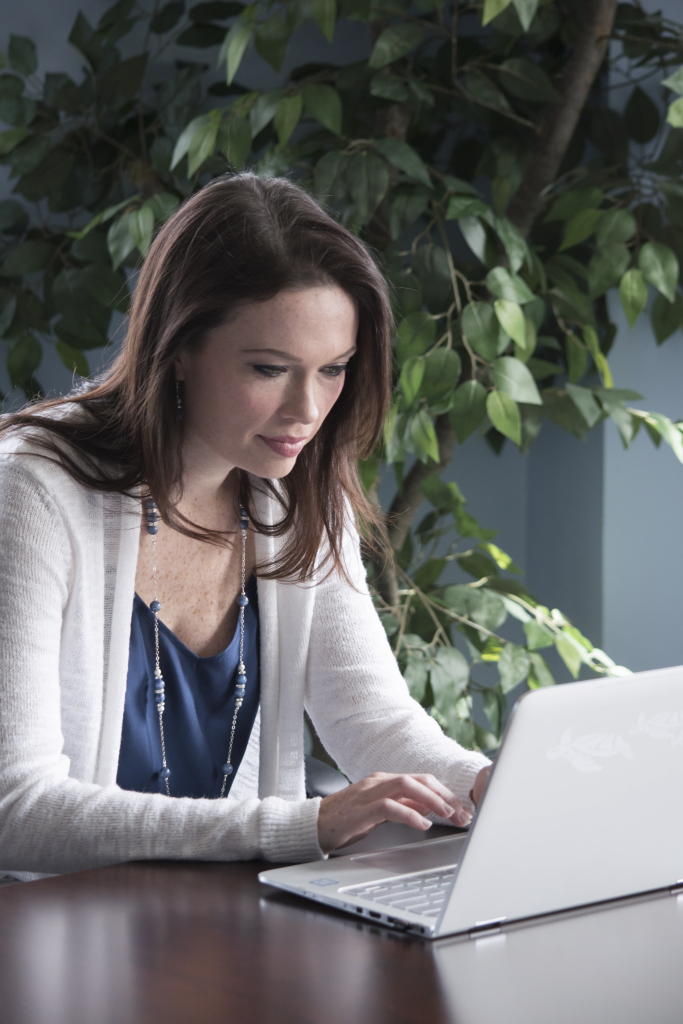 Compensation & Benefits
Salary commensurate with experience and total offering
Unlimited paid time off
Health insurance*
HP Laptop*
iPhone and unlimited everything plan*
Phone reimbursement†
Commission on qualified services, products, and events
Performance bonuses annually
Occasional paid travel with me to speaking events, retreats, etc.*
Flexible work schedule
How to Apply
There are 5 steps to getting hired for this role.
Submit application. You'll need to upload your resume, cover letter, DISC profile, and writing samples.

Online interview must be completed.
In-person or Zoom interview. 
Paid working interview. 
Offer, Hire, Start
When Laura first hired me, I learned rather quickly that she was an incredible business leader and powerhouse in our community. When I discovered that Laura was named one of Worcester's 40 Under 40 at the age of 23, I was not surprised in the least. Having worked with Laura, I learned that she was not only passionate about helping her business and clients succeed, but that she also had a fantastic way of raising her employees up to their true potential- even when if they couldn't see it themselves.

In the time that I have known Laura, I have found that above all else, she is a remarkably passionate individual. No matter what she decides to invest her time in, she does it with passion and a drive like nothing I have seen before. She cares deeply about all projects she decides to take on, and tackles every high and low with tenacity. I don't know that I have once had a conversation with Laura during which she did not show me how wonderfully introspective she is. Whether we were discussing a recent meeting with a client, or the baby birds that found a home in her backyard, I have never doubted her supreme emotional intelligence and her ability to think deeply and critically about all situations she encounters. As you can imagine, this inevitably makes her a not only a strong business leader, but an equally strong communicator as well.

When she is not running a company, writing a book, or consulting future executives, I have come to know Laura as an artist, nature-enthusiast, and lover of life. I can only hope that you will have the opportunity to do the same.

Sincerely,

Emily D'Arcangelo